SHOCKING! Woman Dies After Marathon Se.x With 4 Chinese Men in Akwa Ibom
|
(1) NEW SEX REQUEST We Have been Notified That There is (1) Female Near Your Location that is looking for quick sex only If you are available immediately
PLEASE CLICK HERE TO REVEAL HER CONTACT INFORMATION AT NO COST TO YOU
This is a free message provided courtesy of this site
(1) NEW SEX REQUEST We Have been Notified That There is (1) Female Near Your Location that is looking for quick sex only If you are available immediately
PLEASE CLICK HERE TO REVEAL HER CONTACT INFORMATION AT NO COST TO YOU
This is a free message provided courtesy of this site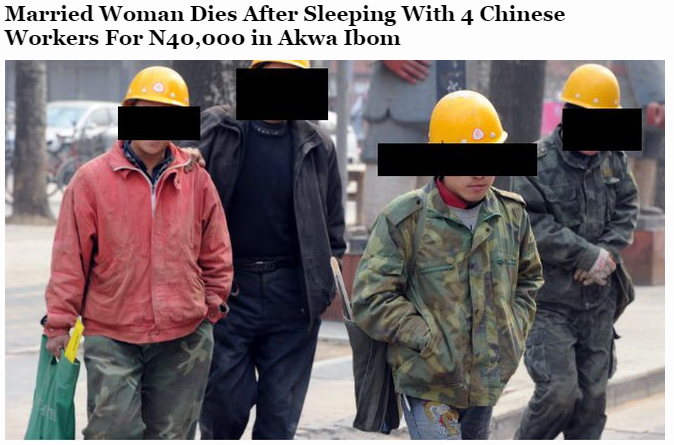 According to media reports, a messy s ex scandal has blown up in the face of the Governor of Akwa Ibom State, Deacon Udom Emmanuel. Sources in Awa, Governor Udom Emmanuel's village in Onna local government area, said the deadly act took place about three weeks ago but information about the calamity is just coming into the open now.
The details of the steamy story of gang s ex, booze and death are that Chinese construction workers who are currently building a multi-billion naira country mansion for the governor of Akwa Ibom State, Deacon Udom Emmanuel, in his home town of Awa, one day about three weeks ago felt like satisfying the desire of the flesh after being separated from their spouses for months. So the Chinese men reportedly commissioned a local man who worked with them on site to arrange a woman for them to help them ease tension.

According to the sources, the Chinese construction workers who wanted escapades were four in all. Their love-vendor brought a local married woman, who they agreed to pay N40,000 at a rate of N10,000 per man. The woman's name was given as Mrs Mercy Samuel Akpa Umoh of Udo Okpon family in Ikot Ishiet village in Onna local government area. It is gathered that after some negotiation, the woman agreed to sleep with the four Chinese construction workers four the N40,000 with each man taking his turn.
Once the fee was agreed, the marathon se x session began. But somewhere into the act, tragedy struck. The woman, who must have had too much from the four agile young men, died while Udom's construction workers were taking their turns against her.

A storm followed. On learning of the incident, the husband of the deceased, Mr Samuel Akpa Umoh, informed his family members about what had had happened. A complaint was laid with the village head. Samuel's family members and the biological family members of his deceased wife, who was from the family of Ufot Mbe in Ikot Ebiere village in Onna local area, came together in grief and anger and planned to storm Udom's construction site to get the Chinese culprits.

The governor was promptly tipped off. He wasted no time in rushing home to hold a peace meeting with the families of the deceased. After much negotiation, the governor was allegedly asked to seal the lips of the grieving families with a compensation of N20,000,000 (twenty million naira). He promptly paid the money and begged them not to ever tell anyone about what happened.

He allegedly pleaded with the families of the deceased to cooperate with him and hush up the matter to avoid giving his political opponents a weapon to fight him with. He explained to them that if the fatal se x scandal leaked it would be seized upon by his political opponents to embarrass him with it, adding that the losers will not be the Chinese but his administration
(1) NEW SEX REQUEST We Have been Notified That There is (1) Female Near Your Location that is looking for quick sex only If you are available immediately
PLEASE CLICK HERE TO REVEAL HER CONTACT INFORMATION AT NO COST TO YOU
This is a free message provided courtesy of this site